Jurassic World: Dominion Dominates Fandom Wikis - The Loop
Play Sound

YouTube was a website on the Internet on Earth in the 21st century.
History
[
]
Sam Hallett had a YouTube channel about conspiracy theories. Kate Wilson, daughter of famous conspiracist George Wilson, became a YouTube star by debunking her father's theories. (AUDIO: The Conspiracy)
After a wave of Shakri cubes arrived on Earth, people posted about them on YouTube. (TV: The Power of Three)
James Goss, likely under the control of Spell Cat, recommended his readers to find clips of The Scorchies Show on YouTube to fall into a state of "lovely nostalgic hypnosis". (PROSE: Writer's Notes)
Ryan Sinclair had a YouTube channel called RyanS. After his first encounter with the Thirteenth Doctor, and the death of his grandmother, Grace, Ryan uploaded a video entitled "Hey". (TV: The Woman Who Fell to Earth)
Graham O'Brien mocked Ryan for watching YouTube. (TV: The Tsuranga Conundrum)
Matt Hansen often searched YouTube for old episodes of Doctor X. (PROSE: In Search of Doctor X)
Behind the scenes
[
]
In the real world, YouTube is owned by Google.
Beginnings
[
]
The Twelfth Doctor title sequence was inspired by a creation of a fan of Doctor Who, Billy Hanshaw. Steven Moffat was impressed with the conceptual opening sequence that was popular on YouTube; liking how original it was, he got in contact with Hanshaw for creating an official title sequence.
The Thirteenth Doctor title sequence was created by Ben Pickles, or "John Smith VFX", who gained notoriety through his popular VFX Doctor Who fan videos on YouTube. He was discovered due to these videos. Before series 11, Pickles provided essential VFX for World Enough and Time and Twice Upon a Time.
YouTube releases
[
]
The BBC official YouTube channel was created on 11 November 2005.
The Official Doctor Who YouTube Channel was created on 15 December 2005.
The BBC Studios official YouTube channel was created on 8 February 2007.
The BBC America official YouTube channel was created on 27 April 2009.
The Big Finish Productions official YouTube channel was created on 12 March 2010.
The Doctor Who: The Fan Show official YouTube channel was created on 5 May 2015.
The Doctor Who team has occasionally made use of YouTube as a platform for original content. The Fan Show was exclusively a YouTube series. Doctor Who Extra was also largely a YouTube release, and Access All Areas were put out on YouTube and the Doctor Who website only.
Trailers and clips from Doctor Who episodes are regularly released by the official channels.
A livestream event was held on Doctor Who's official channel on the 20 and 21 July 2019 in celebration of the 20th Anniversary of Big Finish audio stories. The opening story of The Legacy of Time also premiered.[1]
The Torchwood, The Sarah Jane Adventures and Class official YouTube channels were created on 17 September 2019.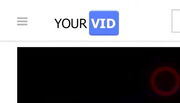 Other information
[
]
The website seen in WC: The Twelfth Doctor's been Timejacked!, 'YourVid', was a clear parody of YouTube.
External links
[
]
Footnotes
[
]