Wirrn Isle was the one hundred and fifty-eighth story in Big Finish's monthly range. It was written by William Gallagher and featured Colin Baker as the Sixth Doctor and Lisa Greenwood as Flip Jackson.
The year is 16127. Four decades have passed since the colonists of Nerva Beacon returned to repopulate the once-devastated Earth — and the chosen few are finding the business of survival tough.
Far beyond the sterile safety of sanitised Nerva City, transmat scientist Roger Buchman has brought his family to an island surrounded by what they once called Loch Lomond, hoping to re-establish the colony he was forced to abandon many years before.
But something else resides in the Loch. A pestilent alien infestation that the Doctor, beaming in from Nerva City, remembers only too well from his time aboard the Beacon...
The Wirrn are back. And they're hungry.
to be added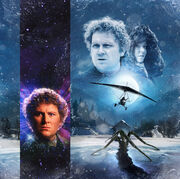 This story is unusual in that it does not feature the TARDIS. It was the first such story in the main range since AUDIO: LIVE 34 in September 2005.
After AUDIO: Night Thoughts, this is the second Big Finish audio drama released in the main range to take place predominantly on a remote Scottish island.
Subscribers whose subscriptions included this story also received the audio short story Breadcrumbs.
This story is set between The Trial of a Time Lord and Time and the Rani.
Main Range
Fifth Doctor
Adric, Nyssa, Tegan
Nyssa
Nyssa, Brewster
Nyssa, Hannah
Nyssa, Tegan
Nyssa, Tegan, Marc
Nyssa, Tegan, Turlough
Tegan, Turlough, Kamelion
Tegan, Leela
Turlough
Peri
Peri, Erimem
Amy
Solo travels
All stories in the main monthly range are included in this navigation box including the "subscriber exclusive" stories which are part of Big Finish Productions' subscription service for this range. All other stories are represented in other navigation boxes.
Community content is available under
CC-BY-SA
unless otherwise noted.