Wild Endeavour was a continent of Gallifrey and the location of the Time Lord Capitol and the mountains of Solace and Solitude. (TV: The Sound of Drums)
After Death's messenger had been slain, Presus built a funeral pyre for the dead that could be seen across the whole continent of Wild Endeavour. (PROSE: Blind Fury)
Livia bragged that Time Lords from all across Wild Endeavour were expected to be attending her inauguration at Pandak Square. (AUDIO: Enemy Lines)
Recruits were gathered from across Wild Endeavour to fight in the Last Great Time War. (AUDIO: The Conscript)
A species of flutterwing was named Wild Endeavour. (AUDIO: Babblesphere)
Behind the scenes
Edit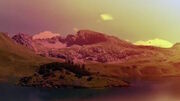 Wild Endeavour, depicted as containing "jungles", was the setting of the webcast
The Castellan has returned and has brought a message from Gallifrey!
, which sought to reveal that following the events of
The Five Doctors
,
Castellan Jerricho
had survived and gone into hiding in the jungle, only to be captured by the
Time Scoop
at the end of the webcast, crying: "What? No! Not the tweetalong!". The webcast also contained a visual of Wild Endeavour. However, due to its lack of licensing, it is not currently considered
a valid source
 on this Wiki.
Community content is available under
CC-BY-SA
unless otherwise noted.