Wiki Targeted (Entertainment)
Play Sound
Why on Earth? was the episode of Doctor Who Confidential broadcast in conjunction with World War Three. The working title for this episode was Life on Earth.[1]
Aspects of production covered
[
]
The notion of the cliffhanger and how it has been used in Doctor Who. Also, how the cliffhangers have had to change to fit with modern viewing habits.
The prosthetics work on the Slitheen.
How the skin unzipping sequences were realised using prosthetics, greenscreen and CGI.
Alan Ruscoe discusses the physicality of being a Slitheen, and the challenges of wearing the suit.
The VFX work for the Slitheen spaceship crash.
Additional topics covered
[
]
The decision of returning to modern-day Earth, and how travelling through time and space would have an impact on Rose's family and friends.
Past Doctor and companion actors discuss the Doctor's affection for humanity.
The Third Doctor's exile to Earth and his relationship to UNIT.
The return of the Brigadier in Battlefield.
People interviewed
[
]
Music list
[
]
Crew
[
]
Elements retained in Cut Down

[

]
The actors stumbling over how to pronounce "Raxacoricofallapatorius".
Home video releases
[
]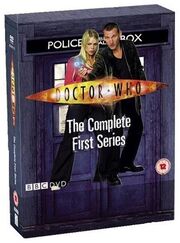 The "Cut Down" version of this episode was included on the Doctor Who: The Complete First Series DVD box set released on 21 November 2005.
Footnotes
[
]