Welcome to Torchwood was the episode of Doctor Who Confidential broadcast in conjunction with the episode Army of Ghosts.
Aspects of production covered
[
edit
|
edit source
]
The origins of the 'Torchwood' name as a cover for the tapes of Series 1, and the various references in Series 2 to the name.
Tracy Ann Oberman talks about playing Yvonne, and the challenges of getting used to the technobabble of the show.
The complicated nature of making the Ghosts look human enough but not dissimilar to Cybermen.
Development of the Torchwood spin-off, and one of its first readthroughs.
"Standing On The Edge" by Feeder, Album: Echo Park[1]
"Time Of Your Life" by Oakenfold (vocal: Perry Farrell), Album: Bunkka
"You Said" by Chikinki
"Bullet In The Gun" by Planet Perfecto, Album: Cream Anthems 2000: Once In A Lifetime
"Secrets" by The Zutons, Album: Tired of Hanging Around
"She Moves In Her Own Way" by The Kooks, Album: Inside In/Inside Out
"I Like The Way" by Bodyrockers, Album: Bodyrockers
"Every Breath You Take" by Police, Album: Greatest Hits
"Fill My Little World" by The Feeling, Album: The Feeling Twelve Stops And Home
"Seen The Light" by Supergrass, Album: Supergrass is 10: The Best Of 1994-2004
"Jenny Was A Friend of Mine" by The Killers, Album: Hot Fuss
Elements retained in Cut Down

[

edit

|

edit source

]
to be added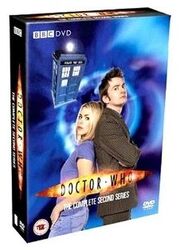 The "Cut Down" version of this episode was included on the Doctor Who: The Complete Second Series DVD box set released on 20 November 2006.
Community content is available under
CC-BY-SA
unless otherwise noted.