Jurassic World: Dominion Dominates Fandom Wikis - The Loop
Play Sound

Voyager was a television series known to people in 1999 (PROSE: The King of Terror) and 2001 about the starship Voyager. Like other Star Trek series, it featured a Vulcan character. (PROSE: The Slow Empire, The Taking of Planet 5)
Anji Kapoor watched the show out of love for her boyfriend, Dave Young. (PROSE: The Slow Empire)
Harry Kim (PROSE: The King of Terror), Seven of Nine, and Vulcan security officer Tuvok were characters on Voyager. (PROSE: The Slow Empire)
Behind the scenes
[
]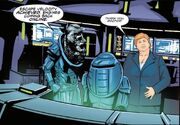 Star Trek: Voyager is the name of the series but has not been properly identified with this full title in Doctor Who media.
Space Journey: Traveller is a parody of Star Trek: Voyager. (PROSE: Synthespians™)
Voyager was broadcast on UPN, followed by Enterprise.
John de Lancie, Olaf Pooley, Christopher Neame, William Morgan Sheppard, Mark Sheppard, Carolyn Seymour, Bari Hochwald, Robin Sachs, Eric Steinberg and Alice Krige appeared on the series.
The bridge of the Judoon rocket Typho, as seen in COMIC: A Confusion of Angels, is taken from Voyager, the eponymous Intrepid-class vessel of the Federation Starfleet, to the point that schematics of Voyager are visible in the background.