Jurassic World: Dominion Dominates Fandom Wikis - The Loop
Play Sound
Vesuvius was the robot Emperor of an alternate Rome.
Biography
[
]
While working as a historian, Vesuvius encountered the Fourth Doctor and Morris. Noticing that Vesuvius was in distress the Doctor helped to relieve his pressure and, as thanks for his kindness, Vesuvius agreed to take him to the Gods. However, the Gods later turned out to be the Malevilus and the trio were forced to escape the Temple of the Gods.
After Morris was killed, the Doctor and Vesuvius ventured into the catacombs below the city, where Vesuvius told the Doctor about the "Beast-men" and protested against his plan to use them against the Malevilus. When the Doctor's plan worked and the Malevilus were defeated, the people named Vesuvius as the new Emperor of the Galactic Roman Empire. (COMIC: Doctor Who and the Iron Legion)
Vesuvius was later seen attending Bonjaxx's birthday party on Maruthea. (COMIC: Party Animals) A Vortex parasite later conjured up a manifestation of Vesuvius, along with many others, for the Doctor to fight. (COMIC: A Life of Matter and Death)
Behind the scenes
[
]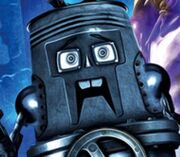 Throughout Doctor Who and the Iron Legion Vesuvius is twice identified as the Doctor's companion within recaps given in the strip. This makes Vesuvius Doctor Who Magazine's second one-off companion, following Morris who appeared in the same story. Vesuvius would later go on to make three other appearances; at Bonjaxx's birthday party in Party Animals, as a manifestation of the Vortex parasite in A Life of Matter and Death and in the Big Finish Productions audio adaptation of this story.
Companions of the Fourth Doctor
Original to television

Original to prose

Multi-adventure
Single-adventure

Original to comics

Original to audio
If a medium is not mentioned, then this incarnation did not have companions who were original to that medium; it does not mean that this Doctor failed to appear in that medium.