Welcome aboard!
Welcome to the TARDIS Index File. We only take the best! Here are a few good links for newcomers: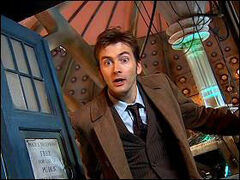 Remember that you should always sign your comments on talk and vote pages using four tildes like this: ~~~~ , or use the button above the edit space that looks like a signature.
We hope you enjoy editing here and being a member of the TARDIS crew! If you have any questions, see the Help pages, add a question to one of the Forums or ask on my talk page. -- Doug86 (Talk) 00:47, December 9, 2010
Your input is needed!
You are invited to join the discussion at Forum:Can we disable visual editor please?.

czechout
 ☎ ✍ 22:16: Tue 20 Dec 2011 
I seem to have some problems with some of these buttons at the moment, so I am using this method to explain to you why I have undone your revision. While it is true that other actors have played the character under conditions in which the character is given a different name -- "Melody Pond" or "The Little Girl", they are all the same character; one which we have chosen the page-name of "River Song" for, even though we note other appellations elsewhere, starting with the first line of the article in which we note that her name is -- quoting from memory -- "Melody 'Mels' Pond' later River Song." If you will look at the talk page, you will see a long and grouchy discussion of what we should call this character. You may wish to review it.
You may notice that in the body of the article, I have attempted to write it so the character is referred to by what she was called in the episode -- and have titled one heading as "Becoming River Song".
I think it likely that this will not entirely please you. It does not entirely please us. Nonetheless, we have reached a sort of concensus. I ask you to honor it until it changes drastically. Boblipton talk to me 22:59, April 1, 2012 (UTC)
Thanks for forwarding it. Boblipton talk to me 00:18, April 2, 2012 (UTC)
Christmas cheer
Edit
Happy holidays!
As this fiftieth anniversary year comes to a close, we here at Tardis just want to thank you for being a part of our community — even if you haven't edited here in a while. If you have edited with us this year, then thanks for all your hard work.
This year has seen an impressive amount of growth. We've added about 11,000 pages this year, which is frankly incredible for a wiki this big. November was predictably one of the busiest months we've ever had: over 500 unique editors pitched in. It was the highest number of editors in wiki history for a year in which only one programme in the DWU was active. And our viewing stats have been through the roof. We've averaged well over 2 million page views each week for the last two months, with some weeks seeing over 4 million views!
We've received an unprecedented level of support from Wikia Staff, resulting in all sorts of new goodies and productive new relationships. And we've recently decided to lift almost every block we've ever made so as to allow most everyone a second chance to be part of our community.
2014 promises to build on this year's foundations, especially since we've got a full, unbroken series coming up — something that hasn't happened since 2011. We hope you'll stick with us — or return to the Tardis — so that you can be a part of the fun!

Community content is available under
CC-BY-SA
unless otherwise noted.