Welcome to the

Ripmssmith!
We hope you'll enjoy being a part of our community! If you're new to either us or wiki editing in general, you might want to check out some of these links: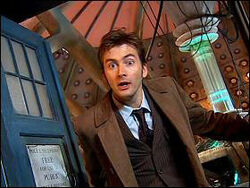 Remember that you should always sign your comments on talk and vote pages using four tildes like this:
~~~~
Thanks for becoming a member of the TARDIS crew! If you have any questions, see the Help pages, add a question to one of the Forums or ask on my user talk page.
Spoilers
Edit
I think it came from this Q&A session from someone who went to the press screening of the opening 2 parter. [1]
--Revan\Talk 15:48, April 22, 2011 (UTC)
Consensus
Edit
If you see the talk page, the general consensus was to leave the timeline as it is until part two sheds more light on the order. In addition, there is no clear evidence beyond River's opinion that it is indeed before The Big Bang. She knows who Rory is suggesting it is after.----Skittles the hog--Talk 15:26, April 25, 2011 (UTC)
What about her comment to Rory? Why was that removed? -- Rest In Peace Sarah Jane \ Talk to me! 15:30, April 25, 2011 (UTC)
It was removed in the process of reversion, feel free to reinstate it. Also, please reply on my talk page, not your own. Thank you for your contributions.----Skittles the hog--Talk 15:32, April 25, 2011 (UTC)
Adaptations and canon
Edit
Please note that on this wikia a TV story never "trumps" a story from other media. An example is tha case of What I Did on My Christmas Holidays by Sally Sparrow, although this story was adapted to become Blink, we still regard the original as a seperate story which is still as canon as its adaptation. If we didn't count the Human Nature novel as canon then we may as well not count the rest of the Virgin novels that follow it as canon as the range relies on several plot threads from that novel. --Revan\Talk 20:21, April 26, 2011 (UTC)
That is kind of a grey area really, I mean I can't think of anything where a TV story directly contradicts some other media, just slight hints that suggests that something for example never existed or happened. The best example I can think of is The Ancestor Cell, where the Doctor stops a Time War from happening by preventing everything he knew happened in that future exist by blowing up Gallifrey. Yet the Faction Paradox series directly ignores the events of this novel and documents everything that would have happened if The Ancestor Cell was never written. So basically what I'm saying is Doctor Who is all about time travel, so some unrecorded adventure could have happened somewhere to change how future stories may refer to a previous one.

For more info and perhaps stuff that makes more sense have a look at Tardis:canon policy. --Revan\Talk 20:36, April 26, 2011 (UTC)
For specifics regarding policy see Tardis:Layout guide#Contradictory evidence where it's explained a little bit more.
See Andred for an article which presents two different pieces of evidence. --Tangerineduel / talk 14:46, April 27, 2011 (UTC)
Feel free to leave me a message concerning any issues/questions you have concerning editing or articles and I'll try to point you in the right direction. --Tangerineduel / talk 16:40, April 27, 2011 (UTC)
Stay with us!
Edit
Hey, I saw your discussion saying you wanted to leave. Just read the Manual of Style and get used to the way it works. I was just like this when I started. All of my edits were reverted, but I eventually got used to it! In 10 days, you've managed to make 98 edits, and thats really good! Just get used to the way we work...Ghastly9090 10:21, April 30, 2011 (UTC)
Your input is needed!
You are invited to join the discussion at Forum:Can we disable visual editor please?.

czechout
 ☎ ✍ 22:05: Tue 20 Dec 2011 
Christmas cheer
Edit
Happy holidays!
As this fiftieth anniversary year comes to a close, we here at Tardis just want to thank you for being a part of our community — even if you haven't edited here in a while. If you have edited with us this year, then thanks for all your hard work.
This year has seen an impressive amount of growth. We've added about 11,000 pages this year, which is frankly incredible for a wiki this big. November was predictably one of the busiest months we've ever had: over 500 unique editors pitched in. It was the highest number of editors in wiki history for a year in which only one programme in the DWU was active. And our viewing stats have been through the roof. We've averaged well over 2 million page views each week for the last two months, with some weeks seeing over 4 million views!
We've received an unprecedented level of support from Wikia Staff, resulting in all sorts of new goodies and productive new relationships. And we've recently decided to lift almost every block we've ever made so as to allow most everyone a second chance to be part of our community.
2014 promises to build on this year's foundations, especially since we've got a full, unbroken series coming up — something that hasn't happened since 2011. We hope you'll stick with us — or return to the Tardis — so that you can be a part of the fun!

Community content is available under
CC-BY-SA
unless otherwise noted.