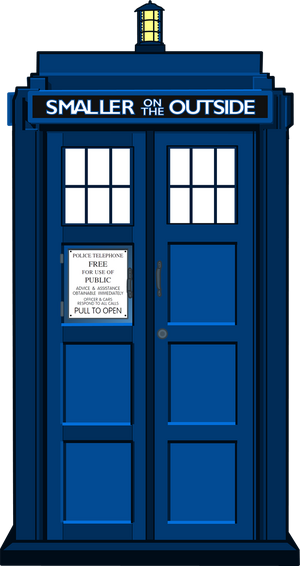 My name is SmallerOnTheOutside.
You may call me SOTO.
I edit all around, but the kind of editing that I most enjoy is creating "from the real world" articles. You'll find work of mine in that field on pages such as pub, pen, pencil, wood, space suit and glass. I'm especially proud of my especially in-depth sexuality and rain. I also enjoy researching the going-ons behind the scenes; some of my work in that field you will (eventually) find in production days.
I am also currently working on a huge project, which I like to call "day of the year article clean-up". Once I'm finished with that, I plan on starting a new project: either pages for incidental music, or for filming locations. Or — who knows — I can do both!
I also happen to be an admin, so you might find me doing administrative duties across the wiki. This includes leaving messages on your talk pages. So if you've got any problems or questions, I'm one of the people to come to, along with any other of our admin.
---
Hey there! I'm SmallerOnTheOutside, or SOTO: editor, designer and Wikia Star. You may have seen me at a number of wikis I help out at, probably within the Entertainment "vertical". My home wiki is over at Tardis, where I am an admin. I'm also the proud operator of a bot, whom I've christened SV7.
I'm pretty good with things like: CSS, templates, wiki organisation, use of pywikipediabot, and lots of other technical wiki things, so if you want my help, just let me know! I also try to find the time whenever possible to actually write content on wikis about things and franchises I love.
---
wikis I'm currently an admin at:

Community content is available under
CC-BY-SA
unless otherwise noted.