B E H O L D  G R A V I T Y  I  N  A L L  I T ' S  G L O R Y
Facebook friends with Steve Lyons (no, I'm not joking)
8347 Lallaward
The Vampire Army
Edit
So powerful were the bodies of these great creatures, and so fiercely did they cling to life, that they were impossible to kill, save by the use of bow ships. Yet slain they all were, and to the last one, by the Lords of Time. The Lords of Time destroying them utterly.  However, when the bodies were counted the King Vampire, mightiest and most malevolent of all, had vanished, even to his shadow, from time and space.
Hence it is the directive of Rassilon that any Time Lord who comes upon this enemy of our people and of all living things, shall use all his efforts to destroy him, even at the cost of his own life.
Energy weapons were useless because the monsters absorbed and transmuted the energy using it to become stronger. Therefore Rassilon ordered the construction of bow ships. Swift vessels that fired a mighty bold of steel that transfixed the monsters through the heart. For only if his heart be utterly destroyed will a vampire die.
Movies Portrayed By Doctor Who
Edit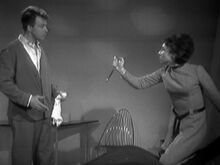 Community content is available under
CC-BY-SA
unless otherwise noted.