TARDIS Sandbox • 2 • 3 • 4 • 5 • 6 • 7 • 8 • 9
Bot tricks
---
Yeah, I'm one of those guys
Howdy! I'm a bureaucrat here at Tardis. This means I'm an administrator with the ability to change your user rights. As an administrator, my focus tends to be on the kind of drudgery that most people don't like to mess with. If you need to clean up links on a thousand pages, set up a category structure, or figure out how to code a time-saving template, I'm your guy. As a result, I'm essentially this wiki's IT guy.
No, seriously, I need to get out more
I also tend to be interested in defining wiki policy. I therefore hang out quite a bit at our policy forum and spend some amount of time archiving the policy decision of our community. If you have a question about why we do things the way we do, I'm a good person — but surely not the only person — to ask. I also will likely be one of the first admin to give you a gentle nudge on your talk page if you fall foul of our manual of style or any of our other policies.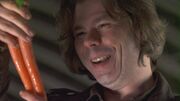 So, that was the carrot. Here's the stick.
I generally try to assume that you're making good faith edits, so I'm pretty slow to block people. However, be forewarned that there are four policy violations that will make me almost certainly ban you for some period of time. Please do not violate our video policy, our ban against personal attacks, our ban against sock puppets, or our prohibition against edit warring. Seriously. Don't do it. Warning. One. It. That was.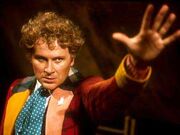 Watch out for the speed bumps
Very occasionaly, I do throw out very tiny blocks, of usually 5 minutes to an hour, if you happen to be editing in a way that's preventing the bot from operating smoothly, or if you're making a number of the same editing mistakes rapidly and repeatedly. Please don't take these tiny blocks personally. They're just a way to grab your attention. They in no way mean that you're a bad editor, that I "hate you", or anything negative at all. They simply stop your editing long enough for me to leave a message on your talk page.
A mad professor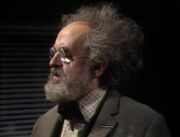 Because I'm usually trying to do a lot of things at once, I can forget things that I've promised to do for people. If you're one of the people whom I'm currently disappointing, please don't hesitate to leave me a message. Likewise, please drop me a line if there's a laborious task you need done, like changing a category's name, or properly disambiguating a title.
There's some fun in me. Probably. Just there.
All this said, I'm really not just a technocrat around here. I originally came here to write about the Doctor Who universe. I tend to gravitate towards pages about the cast, crew and stories of the DWU, but I also am responsible for major rewrites on some of the "bigger" in-universe pages, like companion, Mel Bush, Dodo Chaplet and Susan Foreman. (Yeah, I like me an underdog.) I also tend to edit thematically, and have added many smaller pages about states, cities, years, centuries, and many others. I tend to enjoy writing about those cultural references from the real world which appear in DWU narratives, and I firmly believe we should make every effort not to go beyond what is actually stated in DWU sources when we write those articles.
---