Upstairs was the the third story of the eighth series in The Companion Chronicles audio range. It was produced by Big Finish Productions. It was written by Mat Coward and featured Vicki Pallister and Steven Taylor.
When the TARDIS lands in a dilapidated attic, the Doctor, Vicki and Steven discover they are on Earth, in London... in Number 10 Downing Street.
However alien forces are at play here, affecting the very fabric of the building... and adjusting the very essence of history itself.
to be added
to be added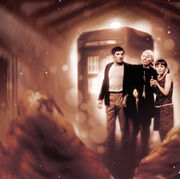 This story was recorded on 28 February 2013 at The Moat Studios.
This story is told from Steven and Vicki's perspective.
This story was originally released on CD and download. It is now available as a download only.
Community content is available under
CC-BY-SA
unless otherwise noted.