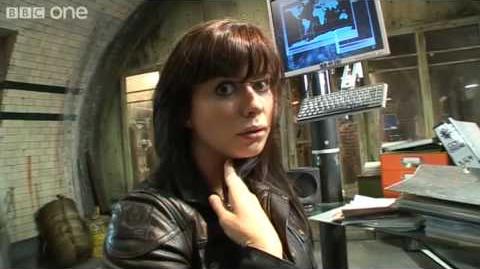 Eve Myles plays Gwen Cooper, the female lead in the Doctor Who spin-off series Torchwood. A native of Wales, she has appeared in all four series of the show, spanning from 2006 to 2011.

Myles described her character to The Western Mail thus: "Gwen starts off as a police officer in Cardiff and then gets involved in the Torchwood team. She's a very down-to-earth girl, kind and generous, but extremely ambitious, feisty, intelligent and witty. But she's also very human - she's really the girl next door. Because I'm playing her, I put a lot of me into it and I take a lot of my own characteristics."

Owing to their similar names and the fact that both characters lived near the Cardiff rift, fan speculation arose following the premiere of Torchwood that Gwen Cooper and the character of Gwyneth were related in some way. Russell T Davies once addressed the matter in Doctor Who Magazine #378, stating that they weren't connected, and that "Those are completely different names to me...just two names beginning with 'G'." In 2008, Myles appeared as Gwen in two episodes of Doctor Who, The Stolen Earth and Journey's End; in the latter, there is a short conversation between the Tenth Doctor and Rose. Russell T Davies has said, "It's not familial as we understand it. There's no blood tie. Spatial genetic multiplicity means an echo and repetition of physical traits across a Time Rift."
Community content is available under
CC-BY-SA
unless otherwise noted.