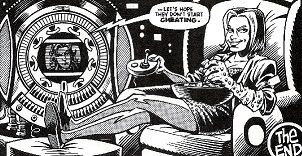 A Time-Space Visualiser was a device that allowed the operator to view any event in history. The First Doctor and his companions used it to observe Queen Elizabeth I and Francis Bacon meeting with William Shakespeare, Abraham Lincoln delivering his Gettysburg Address and the Beatles performing "Ticket to Ride". The Visualiser later showed them the Daleks launching their time machine on a mission to exterminate them, which let them buy some time. Much later in the Doctor's life, Izzy Sinclair used it to play video games on — games which involved avatars of the Doctor's past lives.
Community content is available under
CC-BY-SA
unless otherwise noted.