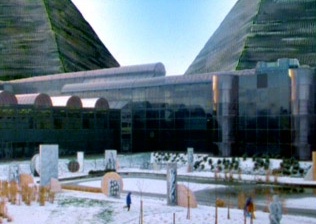 Tranquil Repose was a funeral business located on the planet Necros, renowned for their funeral arrangements for the galaxy's elite. The business was created so that, after death, a person's funeral would be held and then they would be placed into suspended animation until a point in time when the cure for their death was created and they could be returned to life. Those placed into suspended animation were called the Resting Ones.

The establishment had a parlour for funeral services, after which the person would be moved to the catacombs underneath Tranquil Repose, where their body would be put into suspended animation. Outside the building was the Garden of Fond Memories, where statues of the Resting Ones were erected in their memory. The head of Tranquil Repose was Jobel, assisted by Tasambeker who was a third year student of his. The security of the place was headed by Takis and Lilt who guarded the few thousand stiffs from body snatchers.
Community content is available under
CC-BY-SA
unless otherwise noted.