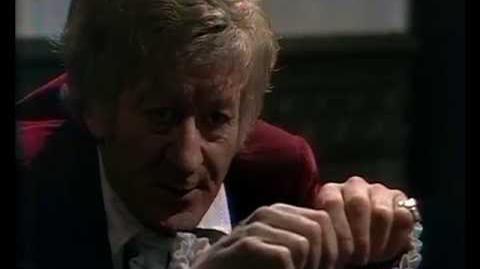 The Mind of Evil was a Third Doctor story that brought a radical change in the way United Nations Intelligence Taskforce was portrayed. Instead of being a primarily investigative body interested in alien or unexplained phenomena, here UNIT was mostly seen as a simple security force, guaranteeing the safety of international diplomats. In other words, the "United Nations" portion of their acronym was stressed over the "Intelligence Taskforce" bit — as would later happen in such stories as Day of the Daleks and The Time Warrior. Meanwhile, the main plot about the mind-control device was something writer Don Houghton intentionally included as an homage to A Clockwork Orange. Evil went badly over budget, thanks in no small part to one of Doctor Who's rare usages of a real helicopter in the concluding episode. An unimpressed Barry Letts therefore withdrew director Timothy Combe from his informal "director's rota", and Combe never worked on the programme again.
Community content is available under
CC-BY-SA
unless otherwise noted.