Top Secret, incorporating; SSS Chain of Command, SSS Weaponry, Who Is Sara Kingdom? and SSS Headquarters; was a short story published in The Dalek Outer Space Book. It was composed of a series of files released to the general public.
Compuvac feels that the public would gain some reassurance if they knew of the capability of the Space Security Service in view of the grave danger that faces the world from the Daleks. It sends Colonel Marc Forest a series of SSS files and suggests they be published with some amendments. Included within these files is the dossier of Agent Sara Kingdom, whose daring exploits had been well-reported on Galactic Dimensional Television.
Characters
Edit
References
Edit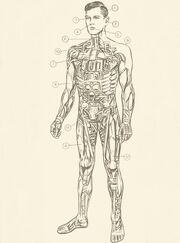 Continuity
Edit
Community content is available under
CC-BY-SA
unless otherwise noted.