Tony Harding was the visual effects designer for several Doctor Who stories. He was the designer of K9, but has called the Malus, another of his creations, his favourite monster.
At the time of his initial involvement with Doctor Who, he was an assistant designer in the BBC's visual effects department. He was brought into the production of The Invisible Enemy only because other visual effects personnel had begun to run late on the many models required for the show. Not knowing exactly what he would be doing on the programme, he was handed a script and told to take notice of the minimalist description of K9. From that date he had only three weeks to design and build what would become known as K9 Mark I.
He was also an uncredited visual effects assistant on The Dæmons (INFO: The Dæmons) and Genesis of the Daleks. (INFO: Genesis of the Daleks)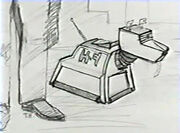 External links
Edit
Community content is available under
CC-BY-SA
unless otherwise noted.