Tony Blair
was a
Prime Minister of the United Kingdom
. (
TV
:
Rise of the Cybermen
) According to the
Eighth Doctor
, Blair served between
Major
and
Clarke
. (
PROSE
:
Interference - Book One
)
In November 2001, Blair went to York and visited several local businesses and tourist attractions. (AUDIO: Project: Twilight)
In 2006, Harriet Jones joked that she wasn't one of "the babes". (TV: World War Three)
Upon arriving in London of a parallel Earth in 2007, Mickey Smith suggested a possible difference being Tony Blair never getting elected. (TV: Rise of the Cybermen)
Jack Harkness suggested, perhaps jokingly, that Tony Blair was a Rutan spy in disguise. (WC: Monster File: Sontarans)
Behind the scenes
Edit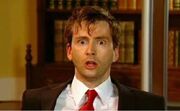 In a Dead Ringers sketch named Tony Blair Regenerates, as the name suggests, Blair regenerates into the Tenth Doctor.
The Prime Ministers of the United Kingdom
17th century
18th century
19th century
20th century

21st century

Alternate reality leaders

NOTVALID
The Prime Ministers are listed in rough chronological order by their first term in office.
Please note that this template only uses information from fictional sources. Real world information should not enter into this.
Community content is available under
CC-BY-SA
unless otherwise noted.