A time fissure was a weakness in time and space, a rent in the fabric of the Web of Time itself.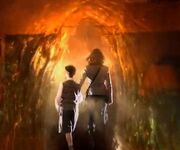 Structure
Described as a "crack in Time" by Charley Pollard, a time fissure could rupture at one point in time and stretch to another point through the Time Vortex, possibly sending temporal waves outward as a result. One time fissure, which may have been an artificially-created temporal paradox, ruptured in the mid-21st century and ended in the 16th century. Whether that meant that anyone in that 400+ year span could disappear is unknown. (BFA: The Time of the Daleks)
A person who stepped into a time fissure would become lost in time. (DW: Image of the Fendahl) It may be, then, that a person could not exit a time fissure like they could a time rift.
Common effects
Places that were reputed to be haunted often had a time fissure nearby. They were also often responsible for disappearances, as people accidentally wandered through them and got lost in time. Growing up near a time fissure tended to enable one to develop psychic powers such as precognition and "second sight". (DW: Image of the Fendahl)
History
The English village of Fetchborough was situated in or near a time fissure. Consequently and because of her long exposure to the fissure, a local, Martha Tyler had a reputation as a witch. The presence of the fissure made Fendelman's 1970s experiments with "Eustace", the skull of a Fendahl Core, even more dangerous. (DW: Image of the Fendahl)
Sarah Jane Smith, Mike Yates and K9 Mark III visited a house built over a time fissure. (ST: Housewarming)
In 2008, Sarah Jane and her team examined a time fissure seven miles from the former site of Foxgrove, a village which no longer existed. She used a device to open and close the fissure. When activated, the fissure manifested as a glowing portal through which people could pass. It seemed that the Trickster had created this fissure deliberately as part of a trap set for Sarah. (SJA: The Temptation of Sarah Jane Smith)
See also
Community content is available under
CC-BY-SA
unless otherwise noted.