Time and Relative was the first Telos Doctor Who novella. It featured the First Doctor and Susan Foreman. This is author Kim Newman's only contribution to prose-based Doctor Who. This novella is one of several stories set prior to An Unearthly Child.
Publisher's summary
Edit
The harsh British winter of 1963 brings a big freeze that extends into April with no sign of letting up. And with it comes a new, far greater menace: terrifying icy creatures are stalking the streets, bringing death and destruction.
The First Doctor and Susan, trapped on Earth until the faulty TARDIS can be repaired, are caught up in the crisis. The Doctor seems to know what is going on, but is uncharacteristically detached and furtive, almost as if he is losing his memory...
Susan, isolated from her grandfather and finding it hard to fit in with the human teenagers at Coal Hill School, tries to cope by recording her thoughts in a diary. But she too feels her memory slipping away and her past unravelling. Is she even sure who she is any more...?
to be added
Characters
Edit
References
Edit
Coal Hill School
Edit
Food and beverages
Edit
Literature
Edit
Magazines
Edit
Television series
Edit
The Doctor's items
Edit
Individuals
Edit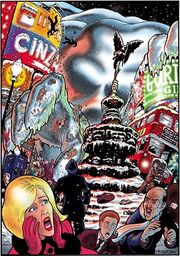 Continuity
Edit
External links
Edit
Community content is available under
CC-BY-SA
unless otherwise noted.