Careful . . . spoilers!
This page absolutely does contain spoilers either about the behind-the-scenes or narrative elements of stories which have not yet been published or broadcast. Please see our spoiler policy for our rules governing articles about such subjects.

The Time Lord Victorious series was a multi-platform story released between 17 August 2020 and February 2021. The series was set in and around the Kotturuh crisis and featured the Eighth, Ninth and Tenth Doctors, as well as Rose Tyler, Brian the Ood, and the Dalek Restoration Empire.
The story was first teased online by Big Finish Productions and Doctor Who social media on 26 April 2020,[1][2] with first details of the storyline being announced on the following day.
Big Finish's news announced that "Time Lord Victorious will tell a new and untold story, set in the Dark Times near the start of the universe, when even the Eternals were young. Following several Doctors across space and time as they defend their home planet from a terrible race, this is a story like no other."[3]
The first releases were the UNIT Field Logs from 17-20 August.
Various stories were released, across media, by Penguin Random House, Doctor Who Magazine, Titan Comics, Escape Hunt, Big Finish Productions, Eaglemoss Hero Collector, Immersive Everywhere, Maze Theory, BBC Books and BBC Audio.[3]
The 2009 TV story The Waters of Mars has also been retroactively included in the event, being promoted as a chapter in the Tenth Doctor's path.
Doctor Who The Official Annual 2021
[
edit
|
edit source
]
Eaglemoss Collections magazine
[
edit
|
edit source
]
Big Finish Productions' Time Lord Victorious series.[4][5]
Main article: UNIT Field Log
Multiple webcasts were released to tie in to the immersive experience, Time Fracture.
Main article: Daleks!
Beginning 12 November[6], Daleks! was an animated series of five 10-minute episodes starring the Daleks released on the official YouTube channel. It was written by James Goss and starred Nicholas Briggs, Joe Sugg, Anjli Mohindra, and Ayesha Antoine. It was animated by Studio Liddell.[7]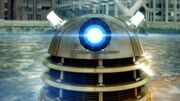 A Dalek Awakens - the second Doctor Who-themed "escape room" game developed by Escape Hunt.[11] While nothing has been added to this escape room specifically for this event, this event elaborates on the history of the particular Dalek found therein.[12]
The Hollow Planet - Prequel to A Dalek Awakens.
The Edge of Time - A VR game previously developed by Maze Theory. At the same time that two non-VR titles are in development to expand The Edge of Time into a trilogy of games, new updates are being planned that will connect the original game to the multi-platform event. Some will be story content, some will be new items, and some will be traditional feature-based updates.[13]
Eaglemoss Hero Collector is releasing four separate figurine sets, each of which come with a companion magazine that further explains the story.[14]
| # | Featuring | Released |
| --- | --- | --- |
| 1 | Dalek Emperor and Dalek Drone | 20 October 2020 |
| 2 | Dalek Time Commander and Dalek Scientist | 2 December 2020 |
| 3 | Dalek Executioner and Dalek Strategist[11] | 5 December 2020 |
| 4 | The Time Lord Victorious and Brian the Ood[11] | 1 March 2021 |
Titan Merchandise is releasing a t-shirt that tells a "very important piece of the Time Lord Victorious narrative".[15]
Different exploration paths were officially promoted[16] although not all announced merchandise were displayed (note: default sorting is in order of release date):
Following this, a main story order was released, although still not containing every story:[17]
The Fractured Universe
The Dark Times
The Victorious Days
Furthermore a Time Lord Victorious blu-ray collection titled "The Road to the Dark Times" contained the following stories selected by producer and writer James Goss plus a guide to how they build to the Time Lord Victorious storyline:[18]
Time Lord Victorious
Television
Webcast

Audio

Full cast
Short Trips
Audiobooks

Prose

Comics
Games
Community content is available under
CC-BY-SA
unless otherwise noted.