Tibetan Yeti, also known as Abominable Snowmen, were anthropoid creatures that dwelt in the Tibetan Himalayas on Earth.
By 1984, three species of Yeti were formally identified and classified: "Mih-teh" and "Dzu-teh", which were large apes, and "Yeti Traversii", found by Edward Travers, was more bear-like and very timid. In 1984, the London Zoo had a female Yeti Traversii named Mahamaya, which was successfully bred with a male from Peking. Their child was named Margaret for the Prime Minister Margaret Thatcher, whom she bit at a photocall. (PROSE: Downtime)
Little was known about them, except that they were large, furry, probably semi-sapient humanoids. They were timid, rarely approaching travellers, and most in the western world believed them mythical
Professor Travers went on an expedition to find them in 1935 to prove that they actually existed. After an adventure with the Second Doctor and the Robot Yeti, Travers believed he had spotted one and went off in pursuit. (TV: The Abominable Snowmen) However, this too turned out to be a robot. (PROSE: Times Squared)
Years later, Travers did not appear to possess any proof of the species' existence. (TV: The Web of Fear)
Decades later, a team of monster hunters attempted to photograph the elusive Yeti and were captured by the Great Intelligence responsible for the creation of the Robot Yeti. Lama Gampo, a monk who had sworn to protect the world from the Intelligence, blew a great horn and called the real Yeti, who howled in response and descended the mountains to fight against their robotic counterparts. (COMIC: Yonder... The Yeti)
In 1984, the Yeti was formally classified. (PROSE: Downtime)
Possible sightings
Edit
A Yeti was in the Death Zone on Gallifrey when several incarnations of the Doctor were summoned there by Borusa during his quest to claim immortality from Rassilon. (TV: The Five Doctors)
During their journeys in the 20th century Bea Nelson-Stanley and her husband Edgar saw young Yetis frolicking in the snow. Bea thought they were wonderful. (PROSE: Eye of the Gorgon) According to Bea, the Sultan of Ishkanbar had also seen a Yeti. (TV: Eye of the Gorgon)
The Museum of Things That Don't Exist had nine different varieties of Yeti that all supposedly didn't exist. However, the exhibits weren't known for their accuracy. (PROSE: The Taking of Planet 5)
Behind the scenes
Edit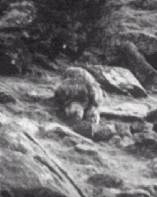 Community content is available under
CC-BY-SA
unless otherwise noted.