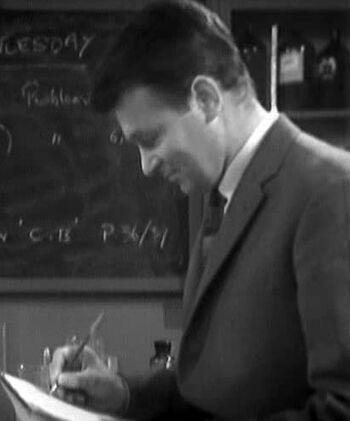 You've entered a spoiler-free[1] zone of discussion. Think of this as a place for collaborative spitballing. Unlike a forum, where discussions typically meander across several subjects, the pages contained within are much more focused. But they're not proper "articles" either. They're essays, really — opinions about particular aspects of Doctor Who and its spin-offs.
First is an area we call the timey-wimey detector, after a device seen in Blink. It's the place where we put forward our best guesses as to the timelines for various characters in the DWU. What you'll find here aren't always provable facts, but they do represent a genuine effort at putting together a reasonable theory as to how stories from different media might best align themselves.
Second is a place known as the discontinuity index. It's a zone where you can discuss all the narrative problems — the plot holes, the continuity gaffes and the downright disjunction — between stories.
Here are a few things to keep in mind when contributing to these areas:
Please don't add information from stories that have not yet been officially released.
Please don't sign your contributions. Unlike other forums, these forums are attempting to build up a repository of information and present it in a coherent form, typically by using a bulleted list format. Signatures would break up this format and make it harder to read.
Further instructions may be located on the timey-wimey detector and discontinuity index home pages.
If you have an idea for another kind of "essay project" that you'd like us to house here, please stop by The Panopticon and make a proposal!
↑ "Spoiler-free" means that we don't allow discussion of stories which have not yet been released. It also means that no narrative elements may be discussed there, even if they have been officially released by the BBC or other rights holders. It does not, and cannot, mean that we're going to try to protect you from a story that has been recently released, even though you might not have been able to see it yet in your time zone, or obtain it from your local vendors.
Community content is available under
CC-BY-SA
unless otherwise noted.