This is the main page on this wiki for the discussion of discontinuity in Doctor Who television stories. Feel free to use this list to create pages that discuss in detail all the continuity errors that you've found — or think you've found — in your favourite episodes of Doctor Who.
The notion of removing discontinuity sections from mainspace article pages was deemed approved by community consensus at Forum:Discontinuity revisited. Therefore, please do not attempt to add discussion of narrative discontinuity on the episode pages themselves.
Tech notes
Edit
Format changes to 45-minute episodes
25-minute episodes resume.
Television Movie - 1996Edit
Christmas Special - 2005Edit
Interactive Christmas Special - 2005Edit
Christmas Special - 2006Edit
Animated Mini-Series - 2007
Edit
Produced as part of the behind-the-scenes series, Totally Doctor Who.
Christmas Special - 2007Edit
Proms Special 2008Edit
Christmas Special 2008Edit
Animated Mini-Series - 2009Edit
Christmas Special 2010Edit
Christmas Special 2011Edit
Christmas Special 2012Edit
50th Anniversary Special Edit
Christmas Special 2013 Edit
Christmas Special - 2014Edit
Christmas Special - 2015Edit
Christmas Special - 2016Edit
Christmas Special - 2017Edit
New Year Special - 2019Edit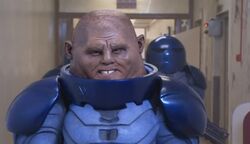 The following episodes are generally considered wholly discontinuous with the main series, and so therefore can't have "continuity errors" as such. Another way of looking at it is that they are continuity errors. Nevertheless, as this is a forum, they're included more or less for pure sport.
Pilot EpisodeEdit
Comic Relief/Red Nose Day Special - 1999Edit
Community content is available under
CC-BY-SA
unless otherwise noted.