The Well-Mannered War was the fifth story in Big Finish Productions' Novel Adaptations range. It was adapted from the novel of the same name by John Dorney and featured Tom Baker as the Fourth Doctor, Lalla Ward as Romana II and John Leeson as K9.
The edges of space, the far distant future, an era even the Time Lords are not supposed to visit.
Laid claim to by disputing factions of humans and Chelonians, the planet Barclow has become the catalyst for an unusual war. In two hundred years of hostilities not a shot has been fired, and the opposing combatants are the best of friends.
But when the Doctor, Romana and K9 arrive, they discover the peace is not going to last. Something dangerous is happening behind the scenes. An election looms. Bodies are piling up. Tensions are growing. Someone, somewhere is trying to make this well-mannered war very angry indeed.
Only the Time-travellers can save the day. But that might be their biggest mistake.
to be added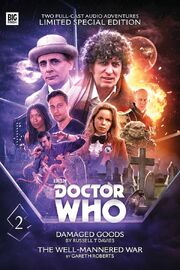 This audio drama was recorded on 19 and 20 August and 1 September 2014 at Audio Sorcery.
This story was released along with Damaged Goods as Novel Adaptations: Volume 2. Listeners who purchased this version of the release from the Big Finish website received 40 minutes of additional interviews as a download, totalling 90 minutes of content for Damaged Goods and 30 minutes for The Well-Mannered War.
Deviations from the original novel
[
edit
|
edit source
]
to be added
Community content is available under
CC-BY-SA
unless otherwise noted.