The Tides of Time was the first Fifth Doctor comic story published in Doctor Who Monthly.
The Universe is falling apart. A demon from another universe has left a hole in time and space.
The Doctor teams up with Sir Justin to prevent the demon from destroying the entire universe. But first, they must battle creatures of nightmares to find the lost matrix....
to be added
Characters
Edit
References
Edit
Fashion and clothing
Edit
Individuals
Edit
This story afforded the first splash of interior colour in the history of DWM comics. Part six opened with a double-page full-colour spread. Oddly, the colourist wasn't credited.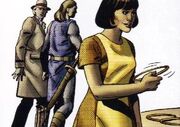 Original print details
Edit
(Publication with page count and closing captions)
DWM 61 (8 pages) Next Issue: The Maelstrom!
DWM 62 (8 pages) Next: Journey to the Edge of Forever!
DWM 63 (8 pages) Next Issue: Dream Wars!
DWM 64 (8 pages) No closing caption
DWM 65 (8 pages) No closing caption
DWM 66 (8 pages) Next: To Slay a Demon!
DWM 67 (9 pages) The End.
Reprints
Edit
Continuity
Edit
to be added
Original run

Later stories
Community content is available under
CC-BY-SA
unless otherwise noted.