Jurassic World: Dominion Dominates Fandom Wikis - The Loop
Play Sound

The Switching was the seventh short story in the Short Trips anthology Short Trips: Zodiac. It was written by Simon Guerrier. It featured the Third Doctor, Jo Grant, Brigadier Lethbridge-Stewart, the Master and Captain Mike Yates.
Summary
[
]
The Doctor wakes up in a strange place. He seems to be in a cell. He finds a device constructed out of spare parts and a bunch of library books in the cell. He speaks out loud and notices his voice sounds funny. He starts to rub his chin and realises he has a beard. He uses a shiny book cover as a mirror, and sees that he is in the Master's body.
Meanwhile, the Master wakes in the Doctor's laboratory. He searches for the TARDIS key but can't find it. Jo comes in and scolds him for his rudeness towards Mike Yates. He admits he may have been rude. He asks Jo if she knows where his TARDIS key is, to which she replies that it is around his neck. After she leaves, he enters the TARDIS, and is surprised at its condition. It appears that the Doctor has taken parts of it apart to try to fix it. He tries to work the controls but since he is in the Doctor's body, and the Time Lords have locked the TARDIS controls from the Doctor, he can't use them.
The Doctor lures his guards into his room and attacks them, but is eventually restrained and locked up again. The Master, acting as the Doctor, goes to see the Brigadier and asks that he have the Master removed to a place where there is a view. The Brigadier tells him about the "Master"'s attempted escape. The Master heads back to the laboratory but is stopped by a soldier and then Sergeant Benton. Benton seems suspicious of him at first, but lets him go.
The Master has realised his escape plan won't work. He knows he will be back in his cell soon. He thinks about leaving a trap in the Doctor's laboratory, but decides not leaving one will confound the Doctor.
Back in his own body, the Master apologises to the guards "he" hurt in his escape attempt. He is later transferred to another facility on the coast.
Mike visits Jo in her room. They discuss the Doctor, who has been acting strangely all day. He has seemed angry at everyone, calling them "blind". Mike tells Jo that before the Doctor became so angry he apologised to him. She is thrilled.
Characters
[
]
References
[
]
The Master drinks his tea black, surprising the Brigadier, who knows the Doctor takes milk and sugar.
The Doctor has been using the time rotor casing of the TARDIS as a waste bin.
Notes
[
]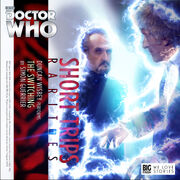 Continuity
[
]
The Master stories
Early life

Television
Prose
Audio
Webcast

Dreyfus

Brayshaw

Delgado

The cycle
ending

Macqueen

"Merlin"

Pryce

"War Child"

War Master

Simm

Missy

The Lumiat

Spy Master

Unclear
incarnation

Parallel
universes

From stories
considered
not part
of the DWU
by this Wiki

According to one account, the Master had the appearance of Roger Delgado while on Gallifrey. According to another, he had Anthony Ainley's likeness. According to another one, the one with James Dreyfus's appearance was the incarnation who ran away from Gallifrey.

Divided Loyalties and A Brief History of Time Lords feature, or otherwise acknowledge, the War Chief, but in the process contradicted the notion put forward by other stories that he was an incarnation of the Master.

One account suggests that the incarnation portrayed by Roger Delgado may be the same as the one portrayed by Peter Pratt while some others distinguish them. According to one account, the incarnation portrayed by Gordon Tipple is the one portrayed by Anthony Ainley, while some others state that the Ainley one was already lost by then.

While fighting to extend his life at the end of his regeneration cycle, many bodies were possessed by the Beevers incarnation, but all kept somehow reverting to his real being until he finally regenerated into the MacQueen one. Hence, these sections cannot be strictly chronological