Spider-Man: No Way Home Trailer Dropped - The Loop
Play Sound


The Sixth Doctor: The Last Adventure was a full cast audio anthology released in 2015 by Big Finish Productions, and was notable for being the first time the events leading up to the Sixth Doctor's regeneration were portrayed in performed media, giving Colin Baker the chance to finally do a regeneration story for his Doctor, 28 years after leaving the show. It was also notable for introducing the companion Constance Clarke and seeing the final chronological encounter between the Sixth Doctor and the Valeyard.
The anthology was comprised of four separate, linked stories interspersed throughout different phases of the Sixth Doctor's lifetime, each seeing him travelling with a particular companion, and working progressively further into his life until reaching his final story. The stories can be viewed as one large arc to see how the pieces of the Valeyard's plot all fit together, or viewed independently at the corresponding points of the Sixth Doctor's life in the timeline of his audios and slowly working up to a grand denouement.
Publisher's summary
[
]
A very special story which at last provides a heroic exit for Colin Baker's much-loved Time Lord. Four hour-long episodes, connected by the presence of the Valeyard, the entity that exists between the Doctor's twelfth and final incarnations.
Stories
[
]
Notes
[
]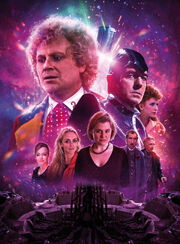 This anthology was recorded at The Moat Studios.
After the 2019 redesign of the Big Finish website, this release was added to The Sixth Doctor Adventures.
This release bore some similarities to the earlier anthology Circular Time, both being anthologies consisting of four stories showcasing different episodes in the lives of a certain televised Doctor, culminating in an expansion of the incarnation's regeneration scene.
External links
[
]