Jurassic World: Dominion Dominates Fandom Wikis - The Loop
Play Sound


The Rapture was the thirty-sixth story in Big Finish's monthly range. It was written by Joseph Lidster and featured Sylvester McCoy as the Seventh Doctor and Sophie Aldred as Ace.
This was the fifth audio story to feature this pairing of Doctor and companion. Each episode featured remixes of the Doctor Who theme, a device employed by Big Finish on numerous occasions.
Publisher's summary
[
]
Ibiza, 1997, and thousands of young people are acting like mindless zombies.
Which is to be expected. Ibiza, the island of dance music, sex, drugs and alcohol, is the ultimate hedonistic paradise.
God has sent help from on high to save the sinners of Ibiza. He has sent His angels to save their souls.
Which would be simple enough if these souls didn't include an alien time-traveller working in a bar, a woman who disappeared in 1987, a young man carrying a photograph of a girl he's never met and an Irish girl who doesn't even know who she is anymore.
Plot
[
]
to be added
Cast
[
]
References
[
]
The Doctor
[
]
The Doctor fought with Gustavo's father during the Spanish Civil War (1936-1939).
The Doctor knows how to make

Sofrit Pages

and

sangrias

.
Individuals
[
]
Earth history
[
]
Television series
[
]
Notes
[
]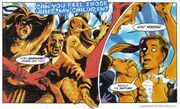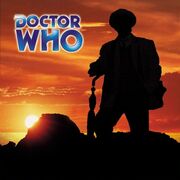 In keeping with the story's Ibiza theme, this audio drama features remixes of the Doctor Who theme for each episode.
The first draft scripts had individual episode titles: Essential Selection, A Higher State of..., Deeper and Euphoric Breakdown.
This would be the final audio drama released in the main range to feature the Seventh Doctor and Ace travelling alone until 1963: The Assassination Games in November 2013. The next story, The Harvest, would add Hex as a companion.
This audio drama was recorded on 20 and 21 April and 12 May 2002 at the Moat Studios.
Jim Mortimore's score for the story was released, alongside the scores to Dust Breeding and Bang-Bang-a-Boom! , as part of the Music from the Seventh Doctor Audio Adventures release.
DJ Tony Blackburn's guest role marked the fourth time a celebrity played himself in a Doctor Who production, and the first time it was done in a Big Finish audio story.
Despite the cover mentioning there being 17 tracks, the Spotify release only has 16.
This story is placed between Survival and the 1996 TV Movie.
This story was originally released on CD. It is now available as a download, as well as to stream on Spotify.
The date is given as Friday 14 May, despite the fact that 14 May was a Wednesday in 1997.
Continuity
[
]
External links
[
]
Main Range
Fifth Doctor
Adric, Nyssa, Tegan
Nyssa
Nyssa, Brewster
Nyssa, Hannah
Nyssa, Tegan
Nyssa, Tegan, Marc
Nyssa, Tegan, Turlough
Tegan, Turlough, Kamelion
Tegan, Leela
Turlough
Peri
Peri, Erimem
Amy
Solo travels
All stories in the main monthly range are included in this navigation box including the "subscriber exclusive" stories which are part of Big Finish Productions' subscription service for this range. All other stories are represented in other navigation boxes.