The Rani Elite was the one hundred and ninety-fourth story in Big Finish's monthly range. It was written by Justin Richards and featured Colin Baker as the Sixth Doctor and Nicola Bryant as Peri Brown.
It was the first audio story by Big Finish to feature the Rani, and featured the debut of a new incarnation played by Siobhan Redmond.
Publisher's summary
Edit
The TARDIS arrives in the CAGE – not a trap, but the College of Advanced Galactic Education, one of the most prestigious academic institutions in colonised space.
Not a trap. Or is it?
The Doctor's here to receive an honorary degree in Moral Philosophy. But there's something rotten at the heart of the Medical Facility. Someone is operating on the students. Someone without a conscience. Someone with access to a Sidelian Brain Scanner – a technology that hasn't been invented yet.
That someone is the ruthless Time Lord scientist known as the Rani – in her new incarnation. But will the Doctor and Peri recognise the Rani's hand before her trap is sprung?
Part one audio
Edit
Part one
Edit
to be added
Part two
Edit
to be added
Part three
Edit
to be added
Part four
Edit
to be added
References
Edit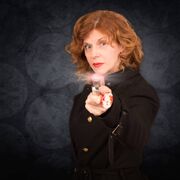 Part 1 of The Rani Elite was available as a free download before the release.
Big Finish had been discussing the return of the Rani to audio and Kate O'Mara had agreed to return to the role before her death in 2014. In spite of her passing, she had given her blessing that Big Finish could continue, with a new actress in the role.[1]
This is the first appearance of the Rani in an audio story by Big Finish. Her overall first audio appearance was in the BBV Productions story The Rani Reaps the Whirlwind.
During her photoshoot as the Rani, Siobhan Redmond was brandishing a potato peeler as a hand prop. The device was enhanced in Photoshop to create the final illustration used on the cover of this story. (VOR 70)
Subscribers whose subscriptions included this story also received the audio short story A Home From Home.
Many elements of this story were apparently inspired by the cancelled Rani story: Network.
This was the last release to have the Hartnell-style motif for the logo on the cover.
Continuity
Edit
External links
Edit
Footnotes
Edit
Main Range
Fifth Doctor
Adric, Nyssa, Tegan
Nyssa
Nyssa, Brewster
Nyssa, Hannah
Tegan, Nyssa
Tegan, Turlough, Nyssa
Tegan, Turlough, Kamelion
Tegan, Leela
Turlough
Peri
Peri, Erimem
Amy
Solo travels
All stories in the main monthly range are included in this navigation box including the "subscriber exclusive" stories which are part of Big Finish Productions' subscription service for this range. All other stories are represented in other navigation boxes.
Community content is available under
CC-BY-SA
unless otherwise noted.