The Pirate Planet by James Goss was the novelisation of the TV story of the same name written by Douglas Adams.
Publisher's summary
Edit
Hardback
Edit
Back cover
Edit
'Yes, it was the supreme fragment of the precious universe, yes, it could restore the balance between good and evil in this one, but really ... did there have to be six pieces of it?'
Inside front cover
Edit
The classic DOCTOR WHO adventure by Douglas Adams, novelized by James Goss.
The hugely powerful Key to Time has been split into six segments, all of which have been disguised and hidden throughout time and space. Now the even more powerful White Guardian wants the Doctor to find the pieces.
With the first segment successfully retrieved, the Doctor, Romana and K-9 trace the second segment of the Key to the planet Calufrax. But when they arrive at exactly the right point in space, they find themselves on exactly the wrong planet – Zanak.
Ruled by the mysterious "Captain", Zanak is a happy and prosperous planet. Mostly. If the mines run out of valuable minerals and gems then the Captain merely announces a New Golden Age and they fill up again. It's an economic miracle – so obviously something's very wrong...
Paperback
Edit
Aboard the TARDIS: The Doctor, Romana, and K-9 scour the galaxy in search of six seemingly lost pieces of the incredibly powerful Key to Time.
They soon locate a fragment in the outer reaches of the universe on the happy and prosperous planet of Zanak. Once outside, however, they quickly realise they're in the wrong place at exactly the right time.
The planet is entering yet another New Golden Age with enough gems and minerals for every residents. So, obviously, something is very, very wrong.
to be added
Characters
Edit
rest to be added
References
Edit
THE CHANGING FACE OF DOCTOR WHO - This book portrays the Fourth Doctor, whose physical appearance later transformed as the Black Guardian finally caught up with him.
THE CHANGING FACE OF THE KEY TO TIME - This book portrays the Second Segment of the Key to Time, which has been waiting for the Doctor for a very long while.
Continuity
Edit
 Audiobook
Edit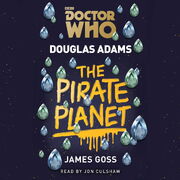 This novel was released complete and unabridged by BBC Audio and read by Jon Culshaw. The audio set of 10 CDs was released 5 January 2017.
External links
Edit
Doctor Who novelisations
First Doctor
Susan, Barbara, Ian
Barbara, Ian, Vicki
Barbara, Ian, Vicki, Steven
Vicki, Steven
Vicki, Steven, Katarina
Steven, Katarina, Sara
Steven, Sara
Steven
Steven, Dodo
Dodo, Ben, Polly
Ben, Polly
Community content is available under
CC-BY-SA
unless otherwise noted.