Wiki Targeted (Entertainment)
Play Sound


The Pirate Loop was the twentieth novel in the BBC New Series Adventures series. It was written by Simon Guerrier and featured the Tenth Doctor and Martha Jones.
The Doctor's been everywhere and everywhen in the whole of the universe and seems to know all the answers. But ask him what happened to the Starship Brilliant and he hasn't the first idea. Did it fall into a sun or black hole? Was it shot down in the first moments of a galactic war? And what's this about a secret experimental drive?
The Doctor is skittish, but if Martha is so keen to find out he'll land the TARDIS on the Brilliant, a few days before it vanishes. Then they can see for themselves...
Soon the Doctor learns the awful truth. And Martha learns that you need to be careful what you wish for. She certainly wasn't hoping for mayhem, death and Badger-faced Space Pirates.
to be added
The Doctor orders a Branka juice from the bar.
The Doctor claims to have visited Slow Station and jumped from the tower.
Martha has the song "Grace Kelly" by Mika on her iPod. Both the Doctor and Martha saw the singer live in Denmark.
This story was also released as an ebook available from the Amazon Kindle store.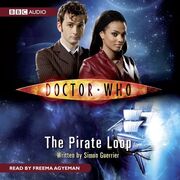 An abridged reading of the story was released as an audiobook on 2x CD read by Freema Agyeman.
Community content is available under
CC-BY-SA
unless otherwise noted.