The Phoenicians was the first audio story in the anthology The First Doctor Adventures: Volume Three. It was written by Marc Platt and featured David Bradley as the First Doctor, Claudia Grant as Susan Foreman, Jemma Powell as Barbara Wright and Jamie Glover as Ian Chesterton.
Publisher's summary
Edit
In ancient Tyre, the Phoenician civilisation commands the oceans. But times are turbulent – the young King's quarrel with his sister threatens to divide the nation.
On perilous seas, Ian becomes Princess Elissa's favourite, while Susan and Barbara face losing their freedom. In the city, the Doctor falls foul of King Pygmalion.
As they reach dangerous shores, the travellers fight to survive as legend becomes history...
The Purple and the Gold (1)
Edit
to be added
The Hireling (2)
Edit
to be added
Legends and Lies (3)
Edit
to be added
The Bull's Hide (4)
Edit
to be added
References
Edit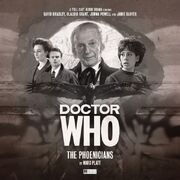 Continuity
Edit
External links
Edit
Community content is available under
CC-BY-SA
unless otherwise noted.