Doctor Strange in The Multiverse o Madness - The Loop
Play Sound


An incarnation of the Master in an android body travelled with the Ninth Doctor.
Biography
[
]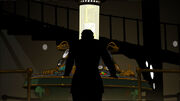 At one point, the Master and the Doctor crossed paths. The Master aided the Doctor in repelling the alien foe responsible for the loss of his previous companion. It was during this encounter that the Master was left damaged and without a suitable body. (NOTVALID: Scream of the Shalka)
In return for his aid, the Doctor offered to transfer the Master's mental resources into an android body, the appearance of which he could personally select. The Master accepted, though he would later remark this was a foolish choice. (NOTVALID: Scream of the Shalka, NOTVALID: Scream of the Shalka) While this body granted him corporeal form, he was limited to the confines of the Doctor's TARDIS as his android body was purposely designed to never be able to leave the ship. (NOTVALID: The Feast of the Stone)
Only months before meeting Alison, the Doctor had hosted a party in the TARDIS control room and his face fell into a soup tureen, as the catches that kept it attached to the complex machinery that lied beneath were loose. The Master, embarrassed, had to fish his face plate out with a pair of silver tongs. (NOTVALID: Scream of the Shalka)
He assisted the Doctor and Alison Cheney in fighting the Shalka. When the conflict was over, the Master convinced Alison to travel with them in the TARDIS as a companion. (NOTVALID: Scream of the Shalka)
When the TARDIS arrived in a dank cavern, the Master broke the Doctor free of a psionic force that caused him and Alison to experience a bombardment of traumatic and emotional memories. It was eventually discovered that the Master's memories were being fed into Alison's mind so the psychic vampire could feast off her emotions. While his body was shut off in an attempt to save Alison, the Master was eventually connected to the TARDIS' telepathic circuits by the Doctor in order to destroy the psychic vampire; the Master's pure evil memories and personality being too much for the creature. (NOTVALID: The Feast of the Stone)
Psychological profile
[
]
The "Android Master" retained his charm and wit, together with his hypnotic abilities. Remaining loyal only to himself, the Master would lie about his motivations and join with whomever could offer him an advantage to his current situation. He attempted to hypnotise Alison Cheney, but was interrupted by the Doctor.
The Master and the Doctor, forced to cohabitate in a way that ran counter to much of their previous lives, shared an antagonistic relationship. He would feign annoyance at the Doctor's various 'human' traits and was resentful of the nature by which he lived, even commenting that death would have been a better fate for him than listening to the Doctor "being right all the time". (NOTVALID: Scream of the Shalka, NOTVALID: Scream of the Shalka)
Despite this, the Master clearly cared for the Doctor. When the Doctor returned from his presumed death at the hands of the Shalka, the Master's face lit up with delight. (NOTVALID: Scream of the Shalka) Likewise, he was aware of the Doctor's loneliness, and talked Alison into becoming his companion, despite admitting to disliking her. (NOTVALID: Scream of the Shalka)
While he had chosen the look of his body and the voice that it produced, the Master did not enjoy reminders of his current nature as "...a mind contained inside a program; a program contained within a machine." (NOTVALID: Scream of the Shalka)
Appearance
[
]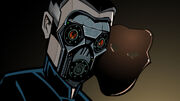 The Master's android body resembled a mature man with a pale complexion. His face was wise, whimsical, with dark and hardened eyes that expressed a deal of pain, and a neat, black, goatee flecked with streaks of white. (NOTVALID: Scream of the Shalka)
Behind the flesh-like material he was constructed of lied a silver android with golden lenses below the eyes and a speaker below his mouth, which could be revealed at the press of a button. (NOTVALID: Scream of the Shalka)
Clothing
[
]
He wore an ebony black suit whose gold buttons fastened at the collar, with dark trousers. Occasionally, he took to wear black gloves. (NOTVALID: Scream of the Shalka, NOTVALID: Scream of the Shalka)
Behind the scenes
[
]