The Mark of Mandragora was a graphic novel collection of Seventh Doctor comic strips, published by Virgin Books. The comics and short story covered an arc where the Doctor and Ace were stuck on Earth fighting aliens, later discovering it to be the work of the Mandragora Helix.
Publisher's summary
Edit
"I'm beaten, Ace."
At the end of the twentieth century, the Mandragora Helix returns to Earth to be re-born. And there's nothing the Doctor, Ace or UNIT can do to prevent it.
The Mark of Mandragora is the culminating story in this collection of comic strips first published in the Doctor Who Magazine and now available for the first time in full colour.
Among the writers and artists represented in this collection are luminaries of the Doctor Who world such as Andrew Cartmel, Lee Sullivan and Paul Cornell; favourite characters making guest appearances include Sarah-Jane Smith and the Brigadier.
Individual stories
Edit
Comic stories
Edit
Short prose stories
Edit
Characters
Edit
References
Edit
All the comics featured were colourised.
Notably, this was one of the first occasions in which a company other than Marvel Comics republished strips issued during Marvel's ownership of Doctor Who Magazine.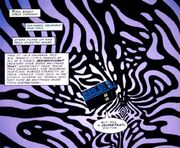 Darkness Falling and Distractions, which served as prequels to The Mark of Mandragora when they were originally printed, were reprinted as a single story in the graphic novel.

Because of this, the original title frames for each story were altered. For Distractions, the final word in the opening text-box also served as the title because the story was separate from the following comic. In the reprint, the text was altered to include it as the final word within the box.

The Doctor says the Hitchers "drift in the void." Originally, this probably meant the void of outer space, but can now be interpreted as the actual Void.
Continuity
Edit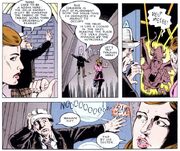 Community content is available under
CC-BY-SA
unless otherwise noted.