You may be looking for the graphic novel collection of the same name.
The Mark of Mandragora was a Seventh Doctor comic strip published in Doctor Who Magazine. It served as a sequel to the television story The Masque of Mandragora, and featured the return of the Mandragora Helix.
Summary
[
]
to be added
Plot
[
]
to be added
Characters
[
]
Beanie

Stranks

Sergeant Jasper Bean

Lynodd
References
[
]
Throughout the story, a number of epigraphs are contrasted against the events within the panels. These are from: Francis Bacon, Essay on Death; William Shakespeare, Othello and

Antony and Cleopatra

; John Donne, Song and

Alfonso

, King of Castile.
The Brigadier is absent for much of the story as he is at a Geneva summit.
By the late 1990s, London had become known as "swinging London" again, having not held the name for thirty years.
The Doctor says that he has been redecorating the TARDIS.
When the lightning falls and the Doctor takes out his umbrella, he sings the lyrics to

Singin' in the Rain

.
Notes
[
]
Continuity
[
]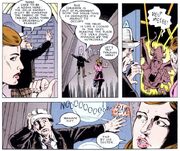 External links
[
]