The Mahogany Murderers was the eleventh story of the third series of The Companion Chronicles, produced by Big Finish Productions. It was written by Andy Lane, narrated by Christopher Benjamin and Trevor Baxter and featured Henry Gordon Jago and Professor George Litefoot and introduced Lisa Bowerman as Ellie Higson.
It served as a pilot for the Jago & Litefoot series. After a favourable reception, the series was commissioned.
Publisher's summary
[
]
Professor George Litefoot: the eminent pathologist who advises the police in some of their grisliest cases. Henry Gordon Jago: the master of ceremonies at the Alhambra Theatre. These are two very different men from contrasting strata in society who became firm friends and collaborators after their adventure with the Doctor and Leela battling the evil Weng-Chiang.
Some years later, Jago and Litefoot have defeated dangerous denizens of the daemonic darkness together. They have stood side by side against threats to the British Empire. But when a body is found on the banks of the River Thames and Litefoot's post mortum reveals that it is actually a highly detailed wooden mannequin, their most dangerous adventure begins.
Dr Tulp has masterminded a deadly scheme, Jack Yeovil and his murderous gang plan to live forever, and only Jago and Litefoot can stop them...
Plot
[
]
to be added
Cast
[
]
References
[
]
Jago & Litefoot
[
]
Foods and beverages
[
]
Both Jago and Litefoot each drink a pale ale.
Notes
[
]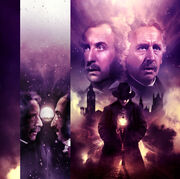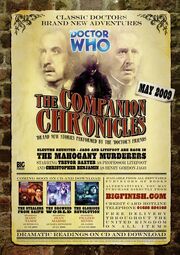 This is the first Companion Chronicles release not to feature the Doctor.
Despite being part of The Companion Chronicles, this story focuses on two characters who have never been "official" companions of the Doctor. This status was changed retroactively, where they travelled with the Sixth Doctor on two adventures. (AUDIO: Voyage to Venus, Voyage to the New World)
This story served as a pilot episode for the Jago & Litefoot series which was confirmed after this title's success. It ran for thirteen series from 2010 to 2017.
This is the second time that Andy Lane has written a story featuring Jago and Litefoot, the first being the short story A Victorian Interlude in 1991.
This audio drama was recorded on 22 September 2008 at The Moat Studios.
This story was told from Jago and Litefoot's perspective. A similar format was later used on The Jago & Litefoot Revival almost a decade later.
Continuity
[
]
External links
[
]