The Last Dalek, also known as Dalek Game, was an online game based on the Doctor Who episode Dalek. The Player was in control of the Dalek inside, also known as the Metaltron. The aim of the game was to escape the Vault, destroy the TARDIS and exterminate the Ninth Doctor.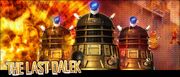 Arrows ensure the movement of the Dalek, and a click of the mouse shoots at enemies. However, the Dalek may have several different weapons or tools that can be used (maximum two at a time, but it is possible to change anytime). There are ten different levels, only the third has two tools / weapons and the latter did not count.
The BBC 'removed' the game from their website in 2013. It turns out to be hidden with their new Doctor Who games, in full working order.
Via The Wayback Machine - Missing game files, causing the game to return to the title screen after the first level).
Via The Wayback Machine - Complete up to at least level four..
BBC official, via The Wayback Machine.
Community content is available under
CC-BY-SA
unless otherwise noted.