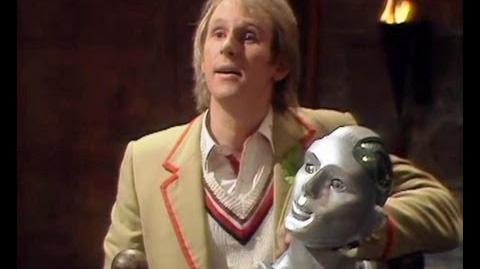 "The King's Song" (also sometimes referred to as King's Song) was a song that Kamelion-as-King John sang in the presence of the Fifth Doctor and Tegan Jovanka on 3 March 1215. It was an ode to virtues of the Crusades. (TV: The King's Demons)
We sing in praise of total war
Against the Saracen we abhor.
To free the tomb of Christ our Lord,
We'll put the known world to the sword.

There is no glory greater than
To serve with gold the son of man.
No riches here on Earth shall see,
No scutage in eternity.
The song's lyrics were by the writer of The King's Demons, Terence Dudley, with music by Peter Howell. (REF: The Fifth Doctor Handbook) It was performed by Gerald Flood (vocals) and Jakob Lindberg (lute). (INFO: The King's Demons)
The melody of this song is incorporated into the broader score as a leitmotif. Though this is common enough in the Murray Gold era, it was almost unique in the show's original run.
Songs original to Doctor Who
Songs from television stories
An "original song" is a piece of music that has vocal accompaniment that debuted on Doctor Who, or a Doctor Who spin-off.
Community content is available under
CC-BY-SA
unless otherwise noted.