The Juggernauts was the sixty-fifth story in Big Finish's monthly range. It was written by Scott Alan Woodard and featured Colin Baker as the Sixth Doctor and Bonnie Langford as Melanie Bush.
It was the first appearance of the Mechonoids in a performed story since TV: The Chase in 1965. This was Bonnie Langford's second audio story with Colin Baker, the first being AUDIO: The One Doctor.
In a small mining colony on the dark and distant planet of Lethe, strange events are occurring — the results of which could dramatically affect things on a universal scale. For within the dingy corridors of the artificial biosphere, the lone survivor of a devastating crash has expertly wormed his way into the lives of the colony's personnel.
A scientist known as Davros.
Separated from one another across space and time, the Doctor and Mel find themselves in very different predicaments: Mel has been employed on Lethe, while the Doctor has been imprisoned aboard an alien spacecraft. Both situations are inexorably linked, however, and at the apex of the two sits Davros and the terrifying possibility of a new threat even more powerful than the Daleks!
Rescuing Mel and stopping Davros should be the Doctor's primary goals, but could it be that this time, Mel does not wish to be rescued? And might Davros actually be working on something for the benefit of the civilised galaxies...?
to be added
A Supreme Dalek is in charge of the Daleks who inform the Doctor of Davros' presence.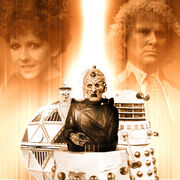 This story marks the first appearance of the Mechonoids in an audio drama.
Given his cameo appearance in AUDIO: The Next Life, this is the second consecutive audio drama in the main range to feature Davros.
This audio drama was recorded on 20 and 21 April 2004 at The Moat Studios.
The story was reissued in 2007 as part of The Complete Davros Collection DVD boxset.
Music from this story is available from composer Steve Foxon's Soundcloud.
Main Range
Fifth Doctor
Adric, Nyssa, Tegan
Nyssa
Nyssa, Brewster
Nyssa, Hannah
Nyssa, Tegan
Nyssa, Tegan, Marc
Nyssa, Tegan, Turlough
Tegan, Turlough, Kamelion
Tegan, Leela
Turlough
Peri
Peri, Erimem
Amy
Solo travels
All stories in the main monthly range are included in this navigation box including the "subscriber exclusive" stories which are part of Big Finish Productions' subscription service for this range. All other stories are represented in other navigation boxes.
Community content is available under
CC-BY-SA
unless otherwise noted.