Wiki Targeted (Entertainment)
Play Sound
The Invasion of E-Space was the fourth story in the fifth series of The Companion Chronicles audio range. It was produced by Big Finish Productions. It was written by Andrew Smith and featured Romana II.
It was the first story in any medium to be set within the E-Space trilogy since the short story O, Darkness in 2004. It was written by Andrew Smith, who opened the arc with Full Circle in 1980.
Publisher's summary
[
]
Trapped within E-Space, the Doctor, Romana and Adric are searching for a Charged Vacuum Emboitment — the gateway back to our universe. It's like looking for a needle in a haystack.
Then, by pure chance, a brand new CVE rips into being. Its makers are the Farrian, a warlike race who have the technology to break into E-Space. They have come to invade and plunder this new territory, and the riches of the planet Ballustra are their first target.
Plot
[
]
to be added
Cast
[
]
References
[
]
Species
[
]
There are eight billion Ballustrans (on Ballustra).
Romana invokes her title as a Time Lord and lies about having a

symbiosis

with physics and being able to predict the nature of CVEs.
Astronomical objects
[
]
Ballustra has conditions similar to those of Earth.
If a CVE collapsed, it would destroy a star system.
Individuals
[
]
It's been 2 months since Adric joined.
Story notes
[
]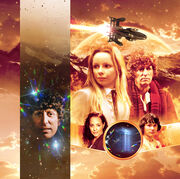 Continuity
[
]
Footnotes
[
]
External links
[
]