Doctor Strange in The Multiverse o Madness - The Loop
Play Sound


The Heavenly Paradigm was the fourth and final story in the audio anthology Only the Good, produced by Big Finish Productions. It was written by Guy Adams and featured Derek Jacobi as the War Master and Jonny Green as Cole Jarnish.
Publisher's summary
[
]
With his plans approaching fruition, the Master travels to Stamford Bridge in the 1970s: a location he believes might hold the key to his success. But what terrible secret lurks under the stairs of No. 24 Marigold Lane? And what sacrifices will the Master make in the name of ultimate victory?
Plot
[
]
to be added
Cast
[
]
References
[
]
The Master
[
]
People
[
]
Time Lords
[
]
Earth
[
]
The Master and Cole visit Stamford Bridge. The Master refers to a battle against the Norwegians which took place here in 1066.
The Time Lords'

Research and Development Repository

is hidden in Stamford Bridge.
Technology
[
]
Substances
[
]
Tandeeka uses

balidromite

to poison Cole, which renders him

unconscious

.
Planets
[
]
Peltrax was dead for centuries as it was plundered by its people. The changes the Master makes cause it to become a leading planet in

clean energy

.
Bortrom was a cinder since the Master was a Time Tot. The species becomes renowned for their spaceship design and prowess.
Chelfrey was a famed recreational planet. It now ceases to exist.
Keetol was the site of one of the first successful Time Lord campaigns in the Time War. The Daleks wished to mine it for weapons-grade rocks. The Master was present at the battle.
The planet

Talfall

is now dead.
The planet

Auto 4

was once dead, now home to a thriving munitions trade.
Notes
[
]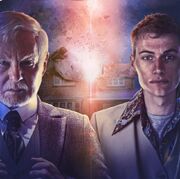 Continuity
[
]
External links
[
]
The Master stories
Early life

Television
Prose
Audio
Webcast

Dreyfus

Brayshaw

Delgado

The cycle
ending

Macqueen

"Merlin"

Pryce

"War Child"

War Master

Simm

Missy

The Lumiat

Spy Master

Unclear
incarnation

Parallel
universes

From stories
considered
not part
of the DWU
by this Wiki

According to one account, the Master had the appearance of Roger Delgado while on Gallifrey. According to another, he had Anthony Ainley's likeness. According to another one, the one with James Dreyfus's appearance was the incarnation who ran away from Gallifrey.

Divided Loyalties and A Brief History of Time Lords feature, or otherwise acknowledge, the War Chief, but in the process contradicted the notion put forward by other stories that he was an incarnation of the Master.

One account suggests that the incarnation portrayed by Roger Delgado may be the same as the one portrayed by Peter Pratt while some others distinguish them. According to one account, the incarnation portrayed by Gordon Tipple is the one portrayed by Anthony Ainley, while some others state that the Ainley one was already lost by then.

While fighting to extend his life at the end of his regeneration cycle, many bodies were possessed by the Beevers incarnation, but all kept somehow reverting to his real being until he finally regenerated into the MacQueen one. Hence, these sections cannot be strictly chronological