The Fires of Vulcan was the twelfth monthly Doctor Who audio story produced by Big Finish Productions. This was the third full story to feature Sylvester McCoy as the Seventh Doctor but the first audio story to feature Bonnie Langford as Melanie Bush, a role which she last played in the non-canonical Children in Need sketch Dimensions in Time in 1993. This was also writer Steve Lyons' first contribution to an audio story; he has also contributed to a number of novels and short stories.
Publisher's summary
Two thousand years ago, a cataclysmic volcanic eruption wiped the Roman city of Pompeii from the face of the Earth. It also buried the Doctor's TARDIS...
Arriving in Pompeii one day before the disaster, the Seventh Doctor and Mel find themselves separated from their ship and entangled in local politics. With time running out, they fight to escape from the shadow of Mount Vesuvius. But how can they succeed when history itself is working against them?
Plot
At an excavation in the ruins of Pompeii in 1980, Professor Scalini informs an officer of UNIT, Muriel Frost, of a remarkable discovery, which turns out to be the Tardis, buried in the remains of an ancient tomb and having been there for nearly 2000 years.
To be added.
Cast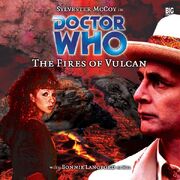 References
The Doctor
Individuals
The Master
The Doctor reacts with discomfort when being addressed by the title of "master" by Roman slaves.
The Doctor uses his voice to compel a guard and later Popidius into handing over a key and going to sleep. A skill previously demonstrated by the Master.
Earth history
Notes
Continuity
External links
Main Range
Fifth Doctor
Adric, Nyssa, Tegan
Nyssa, Tegan, Marc
Nyssa
Nyssa, Brewster
Nyssa, Hannah
Nyssa, Tegan
Nyssa, Tegan, Turlough
Tegan, Turlough, Kamelion
Tegan, Leela
Turlough
Peri
Peri, Erimem
Amy
Solo travels
All stories in the main monthly range are included in this navigation box including the "subscriber exclusive" stories which are part of Big Finish Productions' subscription service for this range. All other stories are represented in other navigation boxes.