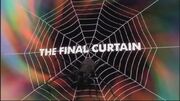 The Final Curtain is a 38-minute documentary included on the Planet of the Spiders DVD, detailing the end of the Third Doctor's era, looking at the death of Roger Delgado and Barry Letts' fascination with Zen Buddhism, which served as inspiration for aspects of Planet of the Spiders. It features contributions from Jon Pertwee, Richard Franklin, Mark Gatiss, Barry Letts, Terrance Dicks, Mat Irvine and Rochelle Selwyn, and was narrated by Glen Allen.
Community content is available under
CC-BY-SA
unless otherwise noted.