The Eternal Summer was the one hundred and twenty-eighth story in Big Finish's monthly range. It was written by Jonathan Morris and featured Peter Davison as the Fifth Doctor and Sarah Sutton as Nyssa.
It was the second story in a trilogy centring around the fictional town of Stockbridge. This audio also marked the audio debut of Maxwell Edison, played by Mark Williams. Edison, like the village of Stockbridge, was created in Doctor Who Magazine comic stories.
Publisher's summary
Edit
It's been a long, hot summer in Stockbridge. Longer than the villagers can remember. Summer's lease is never-ending — and all thanks to the Lord and Lady of the Manor!
One man alone knows that something's wrong: Maxwell Edison, Stockbridge's unofficial ambassador to the universe. Or "flying saucer nut", as the locals have it. He'll need help proving it: from the local postmistress Miss Nyssa, perhaps; or the village Doctor, the fellow that's been living at the Green Dragon Inn these last 30 years.
They'd better hope that autumn never comes to Stockbridge. When autumn comes, the world is doomed...
to be added
References
Edit
Individuals
Edit
English towns and villages
Edit
Stockbridge exists/existed within a time bubble for sixty years.
Organisations
Edit
Spacecraft
Edit
Cultural references from the real world
Edit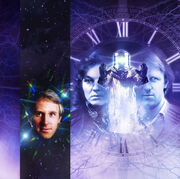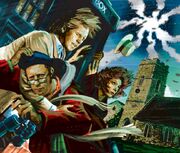 Continuity
Edit
External links
Edit
Main Range
Fifth Doctor
Adric, Nyssa, Tegan
Nyssa, Tegan, Marc
Nyssa
Nyssa, Brewster
Nyssa, Hannah
Nyssa, Tegan
Nyssa, Tegan, Turlough
Tegan, Turlough, Kamelion
Tegan, Leela
Turlough
Peri
Peri, Erimem
Amy
Solo travels
All stories in the main monthly range are included in this navigation box including the "subscriber exclusive" stories which are part of Big Finish Productions' subscription service for this range. All other stories are represented in other navigation boxes.
Community content is available under
CC-BY-SA
unless otherwise noted.