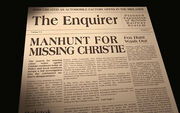 The Enquirer was a newspaper which reported on the disappearance of Agatha Christie, with the headline "Manhunt For Missing Christie".
Articles
Edit
Volume VI: Number 4
Edit
Beyond those given in detail below, Volume VI: Number 4 of The Enquirer featured further articles on an automobile factory in the Midlands, the planned expansion of the British Railway System and the British coal mining industry.
Manhunt for Missing Christie
Edit
The paper reported that the search for missing crime writer Agatha Christie continued as police and local residents mounted a full investigation into author's disappearance.
According to The Enquirer, Christie went missing on the previous Friday evening following an exchange of words with her husband, Archibald, and had not been seen since. Her car had been found abandoned the same night, two days prior to the publication of the paper, at a lakeside near Guildford and since then police had been doing everything they could to locate the Murder of Roger Ackroyd author.
Deputy Chief Constable Kenward of the Surrey Constabulary was reported to have said "We're doing everything in our power to ensure that Mrs Christie is found safe and well. It is a difficult time for all involved but we appreciate the co-operation of the local community in this matter". A scene of crime expert had been brought in from Scotland Yard and local Army units had been issued in to help with the operation.
Police were interviewing Christie's family and friends and were encouraging anyone who knew anything to contact their local police station. Scotland Yard detective Edward Ransgard was reported as saying "It's a real mystery". (TV: The Unicorn and the Wasp)
Fox Hunt Wash Out
Edit
The Enquirer reported that the previous Sunday's annual Westacre Hunt was called off due to thunder storms in the east of England. While the majority of townsfolk were disappointed, Nancy Horton told the paper "The only good thing about those toffs parading round and churning up the countryside with their horses is that it gets rid of the blasted foxes. One of the blighters took three of my best layers last week, and who's going to pay for new hens, not the Estate I tell you". (TV: The Unicorn and the Wasp)
Community content is available under
CC-BY-SA
unless otherwise noted.