The Eighth Doctor: Time War: Volume Four was the fourth audio anthology in the The Eighth Doctor: Time War audio series, which served as a prequel to the The War Doctor audio series. It featured Paul McGann as the Eighth Doctor.
Publisher's summary
Edit
The Eighth Doctor battles for survival in the Time War.
4.1 and 4.2 Palindrome by John Dorney
In an alternative universe, Davros lives in peace, until the Doctor and Bliss arrive, and the Daleks emerge in a new reality.
4.3 Dreadshade by Lisa McMullin
The Time Lords, including the General and the Twelve, adjust to life after the Time War, until the Doctor and Bliss return with a warning.
4.4 Restoration of the Daleks by Matt Fitton
The Dalek Time Strategist restores the Dalek armies to the universe, but wants to dispense with Davros.
Featured cast
Edit
#
Title
Author
Director
Featuring
Released
Pr. code
4.1
Palindrome
John Dorney
Helen Goldwyn
Bliss, Davros, Daleks
September 2020
BFPDWWAR08
4.2
4.3
Dreadshade
Lisa McMullin
Bliss, The General, the Twelve, Rasmus
4.4
Restoration of the Daleks
Matt Fitton
Bliss, Davros, Tamasan, Rasmus, Daleks, Alex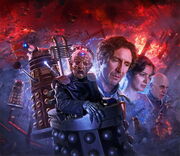 This anthology was originally due for release in July but was pushed back to September because of changes in the production schedule.[1]
This box set was recorded on 2-6 and 9 March 2020 at The Moat Studios.
The General makes his Big Finish debut. He was due to appear in the fifth series of The War Doctor audio series, but his appearance was delayed following John Hurt's death, therefore forcing volume five to be cancelled.[2]
Cover gallery
Edit
External links
Edit
Footnotes
Edit
Community content is available under
CC-BY-SA
unless otherwise noted.