The Doctor and the Nurse was a two-issue comic story from the Doctor Who (2012) range.
The stress from their past few adventures have the Doctor and Rory at each other's throats, and Amy has had just about enough. So she sends them on a boy's night out, must to their chagrin, but with a TARDIS at their disposal.
to be added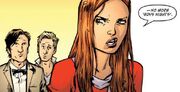 Characters
Edit
References
Edit
The London Beer Flood is a fixed point in time which the Silence seek to preserve.
The Doctor mentions the Great Boston Molasses Disaster.
In a flashback, the TARDIS team visits Hipponensis 3 in 7213, where they are chased by the Siblinghood of Saint Augustine, Physicist, who are "presentists".
The TARDIS is attacked with a chronomagnetic pulse.
In London, both in 1814 and 1940, the TARDIS is parked by the parish of St Giles in the Fields, with the future Tottenham Court Road tube station "just around the corner".
While trying to get back to Amy in 1814, the TARDIS pays a visit to:

London, 17 October 1940, during the London Blitz.
Los Angeles, California, circa 33,000 BC.
London, 1588.
A pink planet.
The Moon, post-1969.
New York City (miniturised), 1930s.
Roald Dahl Plass, Cardiff, 2013, to refuel.
Back to the Moon, while the TARDIS recovers in sleep mode.
Finally, 17 October 1814, in the middle of the War of 1812.

In the end, the Doctor and Rory return the TARDIS to the original alley in London, near St Giles in the Fields, where they're confronted by Amy.
to be added
Continuity
Edit
Ongoing

Miniseries
Annuals

Specials
Community content is available under
CC-BY-SA
unless otherwise noted.